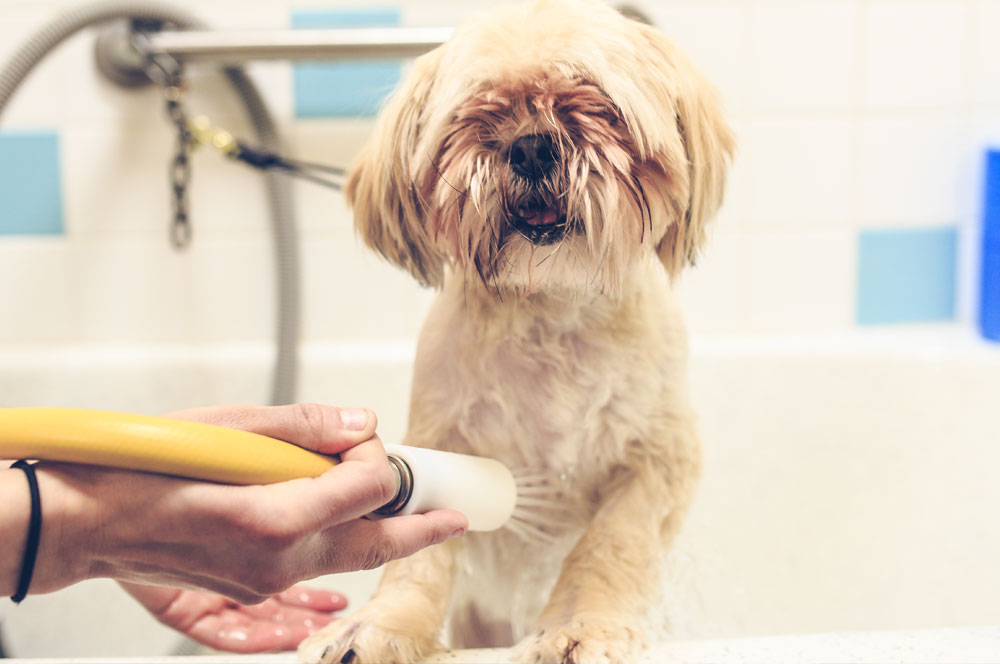 Self serve dog wash
at the good dog spot
Our Self-Serve Dog Washing Stations provide everything you need to bathe your dog in a safe, convenient, and comfortable environment!
The Tub Stations include bathing units that are equipped for dogs of all sizes and can accommodate any amount of fur and grime!  The tubs also stand at a comfortable height for you!
Our Drying stations include high velocity, professional-grade dryers. 
Ramps or an extra set of hands are available to assist large dogs into the tub or the drying station!
Your first visit includes a thorough demonstration to teach you how to use the equipment.
The last Dog Wash is one hour prior to closing for lunch or for the day.
pricing
$20 per dog
$108 for 6 washes ($12 savings!)  $18/wash
$192 for 12 washes ($48 savings!) $16/wash
Supplies Included

 All Natural Shampoo
Grooming Loop to Keep Your Dog Safely in Place
Comb and Brush
Nail Clippers
Ear Cleaner and Cotton swabs
Towel
Apron to Keep You Dry
Additional Options
Premium Shampoo & Conditioner options (range +$2 to $5), Tooth Brush & Toothpaste (+$3), Bandana (+$3)
Call Us to book your spot (413) 534-1333
35 C North Chicopee Street Chicopee, MA 01020
139 King Street Northampton, MA 01060
Our Mission is to ensure pet parents' peace of mind by providing consistent, compassionate grooming services and a nurturing, safe and fun environment for pets to socialize and grow through our daycare and overnight programs.

Monday  7:00am - 6:30pm
Tuesday  7:00am - 6:30pm
Wednesday  7:00am - 6:30pm
Thursday  7:00am - 6:30pm
Friday  7:00am - 6:30pm
Saturday  8:00am - 4:00pm
Sunday  8:00am - 9:00am
& 4:00 - 5:00pm
We are closed between 12:30-1:30 for lunch
Holidays:  8:00am - 9:00am & 4:00pm - 5:00pm
Monday

  7:00am - 6:30pm

Tuesday

  7:00am - 6:30pm

Wednesday

  7:00am - 6:30pm

Thursday 

 7:00am - 6:30pm

Friday

  7:00am - 6:30pm

Saturday

  8:00am - 4:00pm

Sunday  8:00am - 9:00am
& 4:00pm - 5:00pm
We are closed between 12:30-1:30 for lunch
Holidays:  8:00am - 9:00am & 4:00pm - 5:00pm