For any dog or cat boarding stay, a signed liability waiver must be on file.  Prepaid boarding packages require a signature of agreement at the time of purchase.  You can access our agreements and waivers by creating a new account or logging in to an existing account.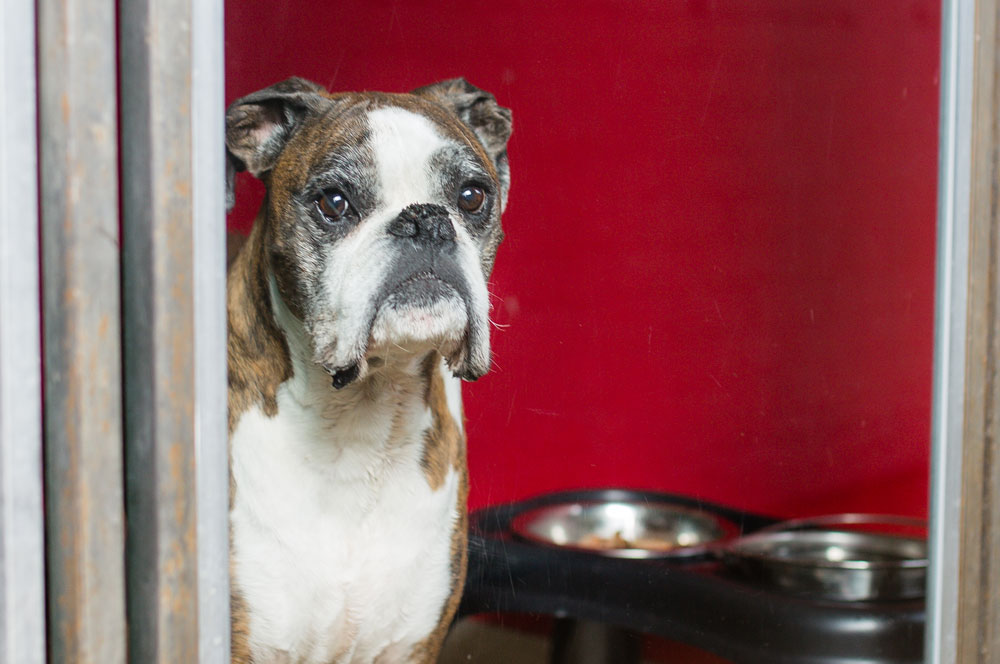 dog boarding
at the good dog spot
The Good Dog Spot is the most trusted home-away-from-home for pet parents looking to go out of town or those who just need their pet out of the house for a holiday party or spring cleaning! You can rest assured your pet is comfortable and safe while they stay with us.
The overnight rate includes a full day of daycare, so your dog will get plenty of exercise and socialization, then be able to retreat comfortably to their own suite at night. Have a dog who doesn't play well with others? Not a problem. We provide dogs plenty of human socialization and individual play as well. We welcome you to bring your pet's favorite blankets, toys, treats and food, but we are fully equipped to provide pets everything they need during their stay. Pets will be fed Blue Seal Pork and Barley and provided a fleece blanket to snuggle with. We offer many additional amenities for pet parents who wish to spoil their pet! 
Our boarding facilities are fully equipped to handle dogs
of all shapes and sizes.
$44/night
(pick-ups after noon incur a $20 care charge)
$5 discount/per night, if more than seven nights
$5 discount off each additional dog
Additional Amenities are available, please ask for options at check-in:
Stuffed Kong – $2.50
Frosty Paws – $3.50
Walk – $12
Cat Play – $12
Brush/Comb Out – $20
Holiday Meal – 4.50
Overnight rates include a full day of daycare, webcam access, and a stuffed Kong at bedtime. Overnight Prepaid packages require a signed agreement at the time of purchase.
PAWFECT RETREAT
Over $900 Value
Twenty overnights ($39/night, regularly $44)

Overnight rates include a full day of daycare, webcam access, and a stuffed Kong at bedtime

Three-year expiration date
BONE-A-FIED BEST
Over $1700 Value
Forty overnights ($35/night, regularly $44)

Overnight rates include a full day of daycare, webcam access, and a stuffed Kong at bedtime

Three-year expiration date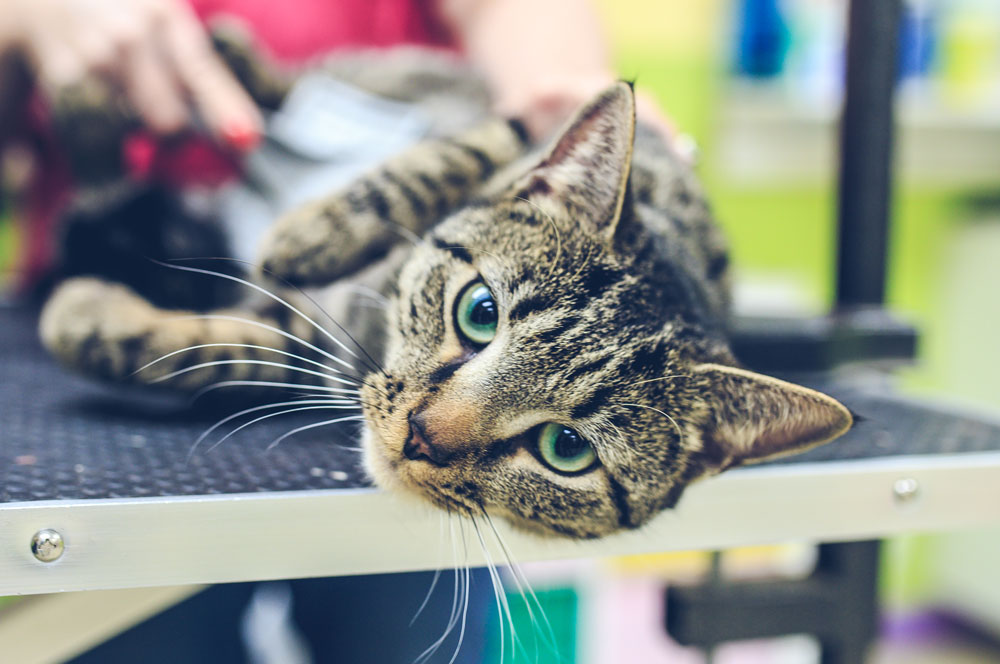 cat boarding
at the good dog spot
When you're out of town, you can rest assured your cat is safe and comfortable. We provide private Cat Condos for each of our overnight guests. Boarding includes private socialization time with a Pet Care Specialist. You may bring your cat's favorite toys, blanket, treats, and food.

We offer Taste of the Wild Rocky Mountain feline (venison and salmon, grain-free) if food is not provided. 
Our boarding facilities are fully equipped to handle cats
of all shapes and sizes.
$22/night
(pick-ups after noon incur a $10 care charge)
$5 discount/per night, if more than seven nights
$5 discount off each additional cat
Overnight Prepaid packages require a signed agreement at the time of purchase.
Twenty overnights ($18/night, regularly $22)

Complimentary bedtime snack

Three-year expiration date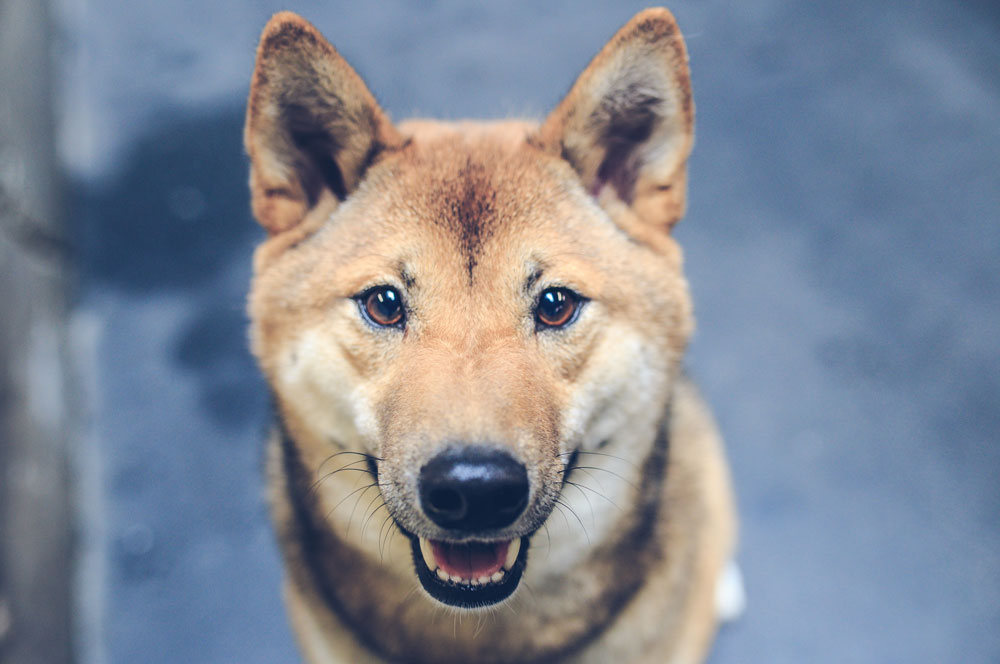 webcam
Stay connected with your pet
We understand the separation anxiety that comes with being away from your furry family member, which is why we installed live webcams in every playroom so you can check in on your pup throughout the day (except during nap time and overnight). Our webcams are accessible from any internet-connected mobile or desktop device. You'll see firsthand how attentive our team is with your pup and you'll be able to feel confident that they are safe and having fun at The Good Dog Spot. 
The new webcam fee is $1per visit. The webcams are currently only available for daycare areas and outside. If you are a boarding or overnight guest that doesn't play in a group, then your pet will not be visible on a webcam at this time. Webcams are available through the Client Portal.
WHAT CAN I BRING FOR MY DOG DURING HIS STAY?
This can vary based on your needs and wishes and also on your pet's comfort level and nutritional needs. If you would like to provide your pet with their own food we gladly welcome that however; we ask that you only provide enough for the stay or a few extra meals in the chance that they may need to spend and additional night with us. If you opt to not bring your pet's food from home, we will provide them with Blue Seal Pork and Barley dry kibble as our House Food. You may also bring a blanket, a worn article of clothing with your scent, your pet's favorite blanket, stuffed toy, or bone. If bedding is not provided, we have plenty and will provide a blanket to ensure your pet's comfort. If your pet is on medication or supplements, please bring them in the original packaging whenever possible. This ensures we have the correct name of the medication as well as correct dosing instructions from your veterinarian.
HOW OFTEN WILL MY DOG GO OUTSIDE?
Boarding guests go outside roughly four to six times a day for potty breaks and time to stretch their legs. We also have a wide variety of Amenity options available – like walks and one on one play time if you would like for your pet to have additional exercise beyond this schedule and their time in daycare (if applicable).
WILL MY DOG BE ALLOWED TO PLAY IN DAYCARE?
Dogs who are staying overnight are encouraged to participate in our daycare playgroups, provided that a Daycare application has been submitted, your dog has passed the Daycare Evaluation and all daycare policies are abided by. If this is your dog's first visit and if group play is something that is very important to you during your dog's stay, we would suggest booking an Evaluation Day prior to your dog's boarding stay with us to ensure that we have space to evaluate them and that they meet all necessary criteria for group play.
ARE THE DOGS ALONE OVERNIGHT?
Yes, we do not have overnight staff. The dogs are tired after a full day of play and/or staff interactions and need their uninterrupted quiet time to get adequate rest. Our buildings are equipped with security cameras and alarm systems that directly notify local police and fire departments, Elizabeth & Cory and the management team, should there ever be an emergency (and lots of non emergencies, too!) Several TGDS team members live just minutes away from either location and are prepared to get there quickly if such an occasion should arise.
THERE ARE LIMITED SUNDAY AND HOLIDAY HOURS. WHAT HAPPENS TO MY DOG ON THOSE DAYS?
The lobby is only open from 8 to 9 am and 4 to 5 pm on Sundays and Holidays for boarding drop-offs and pickups.  There is no grooming or daycare available on Sundays or Holidays. Our team works behind the scenes and puts all their focus on our boarding guests, rather than on human interactions. Dogs in our care will receive adequate time outside, group play amongst boarding guests who are approved for playgroups and plenty of staff attention!
BOARDING
POLICIES & guidelines
AGE
All dogs must be at least 8 weeks in age and/or in their homes for a minimum of 2 weeks.
Vaccination Requirements
Your dog or cat must be vaccinated against Rabies, per Massachusetts state regulations. Beyond this core vaccination, we encourage you to have a conversation with your veterinarian about your lifestyle and beliefs and determine a vaccination protocol that best suits your needs. This could include the distemper/parvo and bordetella vaccines. It could also include deciding not to vaccinate beyond Rabies or an annual titer test to determine what is needed for your pet's system. Proof must be submitted with reservation request and updated as necessary.
Collars and Equipment
Please refrain from bringing your pet in on a Flexi or retractable lead. This is for the safety of staff and your dog. All collars are removed for the duration of your pet's stay. Please be mindful of your dog's actions while in the lobby—while dogs do come here to play, a lot of dogs can be territorial around their parents, and may become reactive on leash.
ReservationS
All dogs must have a reservation for overnight care. Reservations can be made via phone, email, in person or online. We suggest booking your pet's boarding stay well in advance as spaces fill up fast during the summer season, weekends and holidays.
Late fees for Pickup
1-15 minutes late: $15, 15-30 minutes late $30, after 30 minutes your dog is considered an overnight guest and overnight charges apply. Your pet can be picked up after 7am the following day.
Newly Adopted Dog
All newly adopted dogs, regardless of age or where they were acquired, must be in their new home for a minimum of two weeks prior to any boarding stay. Exposing your recently adopted dog or new puppy to too many new situations all at the same time can be detrimental to their mental and physical wellbeing. Your recently adopted dog has undergone a huge life change and needs time to bond with you as well as time to adjust to their new home environment before exposing them to even more stressors such as what they would find in any pet care facility.
Health Requirements
All dogs and cats must be in good health and free of contagious diseases, this includes transmittable illnesses such as parvovirus and canine cough, and internal and external parasites such as worms or fleas. If fleas are found on your pet, your pet will receive an immediate flea bath at your expense.
BOARDING Days and Hours
Boarding is available 365 days a year. We are open Monday through Friday from 7am–6:30pm and Saturday from 8am–4pm and closed for lunch on those days from 12:30–1:30pm. Sundays and Holidays we are open from 8-9 am and 4-5 pm.
CancellationS
We request and appreciate 24 hour notice for all cancellations, however, cancellations can be done anytime up to the morning of your scheduled stay. Repeat offenders to this policy may incur a $25 no show fee or necessary nonrefundable prepayment for future visits.
PEAK SEASON RATES
Peak Season Rates are an additional $2 per night during our busiest times.  The rate applies to dog and cat overnight rates. 
They apply to the following dates:
February & April school vacation weeks
All days between Memorial Day weekend and Labor Day weekend
Columbus Day weekend (Friday to Monday)
Thanksgiving week
Christmas week
New Year's week
Spay/Neuter
Animals do not need to be spayed or neutered to stay overnight however, all dogs must be spayed or neutered no later than 9 months of age to participate in group play.
Behavior Requirements
All dogs must be sociable towards people but not necessarily towards other animals. Our team must be able to walk dogs in and out of their suites on lead to use the bathroom, safely be able to put in and remove food and water while the suite is occupied, safely be able to administer medications (if prescribed) and otherwise care for your pet during their stay with us. Dogs who are not dog friendly are still welcome to board as long as they pose no potential danger to our kennel team if they have an over the top reaction toward another dog in our care. A trial night is recommended for dogs whose behavior is questionable.
Check In/Out Times
Check in is any time during our regularly scheduled hours on the day of arrival. Check out is by 12:30 on the day of departure, unless your pet has a scheduled grooming appointment any time on the last day. Dogs without grooming departure services who stay past the 12:30 check out time are charged an additional $20 care charge and can be picked up any time before close for the additional fee.
Snow
Please be aware that The Good Dog Spot will be CLOSED if Public Schools for that location are closed. We are open 8-9 am and 4-5 pm on snow days for overnight care and emergency cases. If you have any questions, please call our office or check our website before bringing your pet for the most up to date information
HOLIDAY PICK UP CHARGE
There is a $5 Holiday Pick-Up charge for pets dropped off & picked up on the major holidays:
Thanksgiving Day
Christmas Day
New Year's Day
July 4th
Call Us to book your spot (413) 534-1333
35 C North Chicopee Street Chicopee, MA 01020
139 King Street Northampton, MA 01060
Our Mission is to ensure pet parents' peace of mind by providing consistent, compassionate grooming services and a nurturing, safe and fun environment for pets to socialize and grow through our daycare and overnight programs.
Monday  7:00am - 6:30pm
Tuesday  7:00am - 6:30pm
Wednesday  7:00am - 6:30pm
Thursday  7:00am - 6:30pm
Friday  7:00am - 6:30pm
Saturday  8:00am - 4:00pm
Sunday  8:00am - 9:00am
& 4:00 - 5:00pm 
We are closed between 12:30-1:30 for lunch
Monday

  7:00am - 6:30pm

Tuesday

  7:00am - 6:30pm

Wednesday

  7:00am - 6:30pm

Thursday 

 7:00am - 6:30pm

Friday

  7:00am - 6:30pm

Saturday

  8:00am - 4:00pm

Sunday  8:00am - 9:00am
& 4:00pm - 5:00pm
We are closed between 12:30-1:30 for lunch