Please note: Our Groomers book 1 – 2 weeks' in advance, however we try to accomodate emergencies such as skunk encounters and flea infestations.  All new clients must supply proof of current Rabies vaccination, per Massachusetts State regulations. Existing clients need current rabies documentation in their client account.  Puppies under 6 months of age who have not had a Rabies vaccine are welcome! For more information, please review our vaccination requirements below.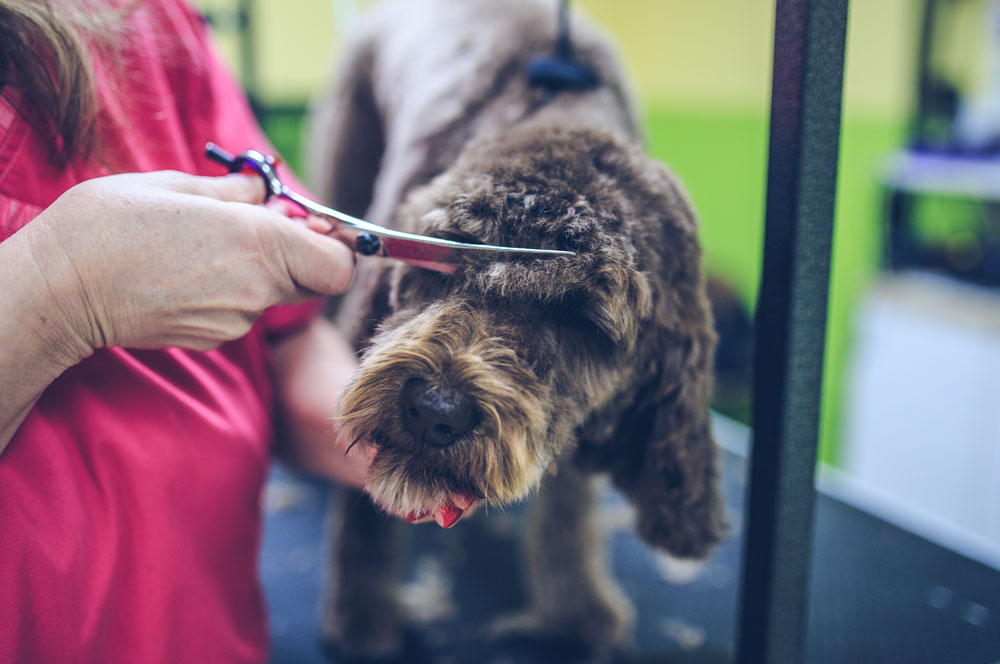 GROOMING SPAW
at the good dog spot
At The Good Dog Spot, your pet's grooming is an all-encompassing 'Spaw' experience consisting of:
 
Therapeutic massaging action of the HydroSurge bathing system
Healthy, all natural shampoo
Nail trim
Ear & eye check/cleaning
Soothing brush massage
Blow-dry
Trimming and styling to your specification
Grooming rates start at $52 and vary based on breed specifics, coat condition and temperament. Please call for a "paw"sonalized estimate.
We offer various a la carte grooming services and add-ons as well; some are walk-in and some require an appointment. 
Touch-Up Service  $26 – $30
Perfect for in-between grooming appointments; the touch-up includes a nail trim and file, brush out, and neatening of hair on the face and feet. Must be scheduled within 3-5 weeks of full grooming appointment.
Walk In Services
Please note no appointment is necessary for these services; please call before arrival to confirm a groomer is on site.
Ear Cleaning $8
Nail Trim & File $16
Anal Gland Expression $10
Pawticure (trim, file & polish)  $22
Nail Trim & Ear Cleaning  $20
Teeth Cleaning $9
(Ask about our Dental Club)
Add on "Spaw Packages":
Comfort $8
Includes Comfort calming oatmeal and kiwi shampoo and an aromatherapy spritz
Renew $11
Includes Renew oatmeal and white plum shampoo, skin and coat conditioner, and an aromatherapy spritz
Ultimate $20
Includes Fresh oatmeal and cucumber shampoo, fresh facial scrub, paw pad treatment, and an aromatherapy spritz
Medicated Treatment $12 – $18
The medicated treatment is designed for dogs with dry, sensitive skin or allergies; It includes an oatmeal shampoo followed by a deep conditioning treatment to soothe and relieve itchy skin
De-Shed Treatment $12 – $18
The De-shed treatment includes a natural shampoo and conditioner specifically designed to remove dead hair, followed by thorough drying and brushing out with brushes designed to remove the undercoat.
De-Skunk Treatment $15 – $22
The De-skunk treatment is designed to help rid your pet of the unpleasant odor left behind after an encounter with a skunk
De-Flea Treatment $15 – $22
The De-flea treatment is designed to rid your pet of fleas and soothe itchy, irritated skin.  It is an all natural solution, free of harsh chemicals and pyrethrin.
Custom Color $10 – $25+
Pet safe semi permanent hair dye to give your pet some extra flair and a pop of color….or cover grays!
Add-On Services:
Color Enhancing Shampoo (black, white, blonde, or red) $5
Designed to help your dog's natural coat color pop and look brighter.
Scent of the Month $5
A new seasonal scented shampoo and aromatherapy spritz every other month!
Facial $8
A refreshing blueberry and vanilla facial scrub specifically designed to help remove tear stains.
Dental Treatment $9
The Dental Treatment includes brushing your pet's teeth with toothpaste made just for pets as well as a breath-freshening spray.
Collar Wash $4
If your dog's collar is dirty and smelly let us wash it so it leaves smelling just as great as your pet
Nail Polish $5-8
Pet safe nail polish to add a little extra color to your pet's look.
GROOMING
POLICIES & guidelines
AGE
All dogs must be at least 8 weeks in age and/or in their homes for a minimum of 2 weeks.
Vaccination Requirements
Your dog or cat must be vaccinated against Rabies, per Massachusetts state regulations. Beyond this core vaccination, we encourage you to have a conversation with your veterinarian about your lifestyle and beliefs and determine a vaccination protocol that best suits your needs. This could include the distemper/parvo and bordetella vaccines. It could also include deciding not to vaccinate beyond Rabies or an annual titer test to determine what is needed for your pet's system. Proof must be submitted with reservation request and updated as necessary.
MATTED PETS
Matted pets incur a greater risk of injury, stress and/or trauma during the grooming process. This includes problems that can arise during or after the grooming process such as skin irritation, clipper burn and nicks. Pet parents agree not to hold TGDS liable for any accident or injury from a result of the grooming process.
GROOMING Days and Hours
Grooming appointments are available Monday through Saturday with the first appointment at 8 am and the last at 3 – 5 pm, depending on the day. We are closed for lunch daily from 12:30–1:30pm.
Snow
Please be aware that The Good Dog Spot will be CLOSED if Public Schools for that location are closed. If you have any questions, please call our office or check our website before bringing your pet for the most up to date information. Our Grooming team will contact you to reschedule your appointment within 1 business day.
Newly Adopted Dog
All newly adopted dogs, regardless of age or where they were acquired, must be in their new home for a minimum of two weeks prior to any grooming appointment. Exposing your recently adopted dog or new puppy to too many new situations all at the same time can be detrimental to their mental and physical wellbeing. Your recently adopted dog has undergone a huge life change and needs time to bond with you as well as time to adjust to their new home environment before exposing them to even more stressors such as what they would find in any pet care facility. Exceptions can be made to this policy (for example, an extremely matted just rescued pup needs and deserves a spaw day!)
Health Requirements
All dogs and cats must be in good health and free of contagious diseases. This includes transmittable illnesses such as parvovirus and canine cough. If fleas are found on your pet, your pet will receive an immediate flea bath at your expense.
SENIOR PETS
For senior pets 8+ years of age, the grooming process can be more stressful and bring to light hidden medical problems or aggravate existing ones. Pet parents agree not to hold TGDS liable for any accident, injury or death of any older pet resulting from the stress of the grooming process.
APPOINTMENTS
All dogs must have an appointment for grooming services. Appointments can be made via phone, email, in person or online. Our Grooming team typically books 1 – 2 weeks' in advance (and ever further in summer and around holidays) so please plan accordingly. If you are more than 15 minutes late to your pet's grooming appointment, we reserve the right to reschedule to a different date or time.
Late fees for Pickup
Care charges are assessed for pets left past their pick up times. The fees are $10 up to 1 hour, $15 up to 2 hours or $25 up to 4 hours. Care charges ensure that pets have access to water and a potty break.
Spay/Neuter
Animals do not need to be spayed or neutered for grooming appointments.
Behavior Requirements
We reserve the right to refuse services to dogs and cats who pose a physical risk to our Grooming team. We are willing to try all possible methods to keep your pet calm during the grooming process including but not limited to using a muzzle or veterinarian prescribed sedation medications.
Collars and Equipment
Please refrain from bringing your pet in on a Flexi or retractable lead. This is for the safety of staff and your dog. All collars are removed for the duration of your pet's grooming appointment. Please be mindful of your dog's actions while in the lobby—while dogs do come here to play, a lot of dogs can be territorial around their parents, and may become reactive on leash.
CancellationS
We request and appreciate 24 hour notice for all cancellations, however, cancellations can be done anytime up to the morning of your pet's grooming appointment. Repeat offenders to this policy may incur a $25 no show fee or necessary nonrefundable prepayment for future visits.
Call Us to book your spot (413) 534-1333
35 C North Chicopee Street Chicopee, MA 01020
139 King Street Northampton, MA 01060
Our Mission is to ensure pet parents' peace of mind by providing consistent, compassionate grooming services and a nurturing, safe and fun environment for pets to socialize and grow through our daycare and overnight programs.
Monday  7:00am - 6:30pm
Tuesday  7:00am - 6:30pm
Wednesday  7:00am - 6:30pm
Thursday  7:00am - 6:30pm
Friday  7:00am - 6:30pm
Saturday  8:00am - 4:00pm
Sunday  8:00am - 9:00am
& 4:00 - 5:00pm 
We are closed between 12:30-1:30 for lunch
Monday

  7:00am - 6:30pm

Tuesday

  7:00am - 6:30pm

Wednesday

  7:00am - 6:30pm

Thursday 

 7:00am - 6:30pm

Friday

  7:00am - 6:30pm

Saturday

  8:00am - 4:00pm

Sunday  8:00am - 9:00am
& 4:00pm - 5:00pm
We are closed between 12:30-1:30 for lunch