All pet parents must submit a fully completed Application and all dogs must complete an Evaluation day. Evaluations are done Monday through Friday. Please allow for a 15-20 minute meeting with a staff member upon pick-up on your Evaluation day so we can discuss with you how your dog did.  Schedule an Evaluation and complete the Daycare Application by creating a new account or logging in to an existing account.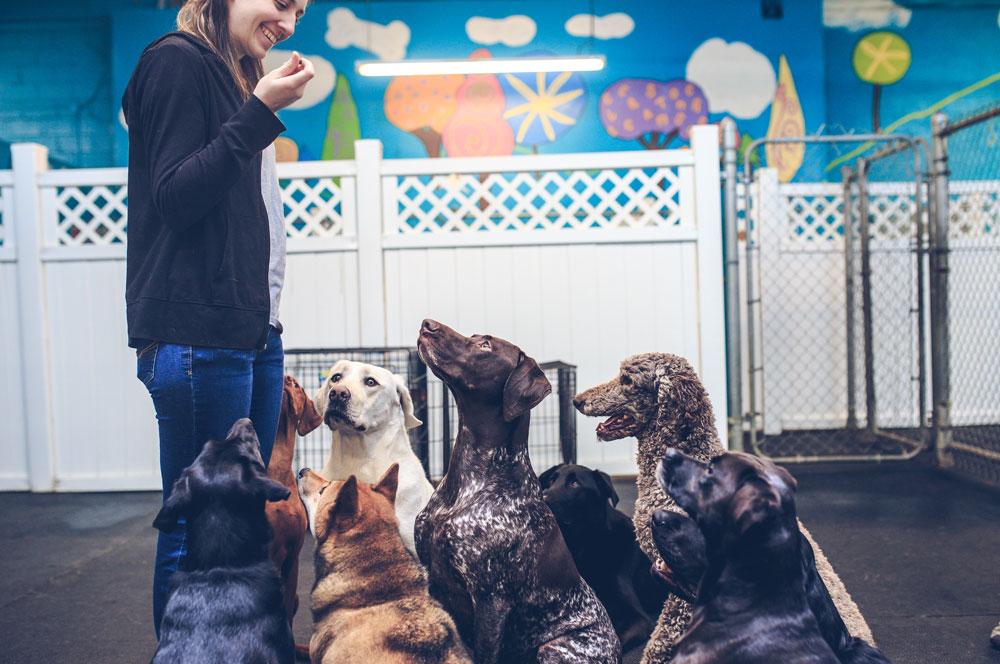 dog daycare
at the good dog spot
At The Good Dog Spot, we love and care for your pet like they are our own. We realize that your dog is a furry member of the family and they deserve the highest level of care. We provide daycare and enrichment for your dog along with safe socialization, education, and exercise. 
Our dog daycare facilities include a variety of fun, climate-controlled playrooms that provide everything an active pup needs, including space and supervision. Our playgroups are separated by size, personality, and play style to make sure your dog is safe and comfortable. As your dog ages, grows and develops, they may switch playgroups as their confidence builds and/or play preferences change.
Whether you're busy at work or working from home, if you're tackling a home renovation project or enjoying a day out and about, there's no better place for your pet to play and have fun than dog daycare at The Good Dog Spot!
A full day of play starts as low as $35.95 per day!
the benefits
of dog daycare
Wanting to be social is deeply instinctual for dogs; that's why we integrate open play with others into their daily routine. Regular playtime with other dogs has numerous benefits, including:
Being more comfortable around dogs and people
Staying physically fit. Pet obesity is a growing concern; according to the Association for Pet Obesity Prevention, more than 50 percent of dogs are obese
Learning positive behavior, leading to less doggie mischief at home
Finding their BFFF (Best Furry Friend Forever)
With The Good Dog Spot, your furry family member will learn how to be a well-balanced canine citizen. Each dog gets a report card at the end of the day detailing their behavior, who they made friends with, and how well they interacted with the team and other dogs. We also provide our regular customers with frequent updates on their dog's temperament, as well as advice on how to replicate their training at home.
We know that structure is important for your dog's development. Here's a typical day at our dog daycare:
Opening – 12 p.m.: Safe, supervised open-play time which includes running, playing, sniffing, and fun with their BFFF's (Best Furry Friends Forever)

12 p.m. – 2 p.m.: Well-deserved nap time. Each dog is provided some much-needed "me" time in a home-style crate so they don't get over-stimulated in exciting environments like a playroom. During this time, we also provide lunches and/or administer medications when applicable. We also use this time to proactively clean each playroom before an afternoon of play! Our highly trained Pet Care Specialists will closely monitor your pup and may give them extra breaks throughout the day if required

2 p.m. – Closing: Open play again before pet parents pick up a tired, happy, and calm dog
All dogs get daily report cards; new dogs get a full-day evaluation and a welcome kit that includes a detailed report on the dog's first day.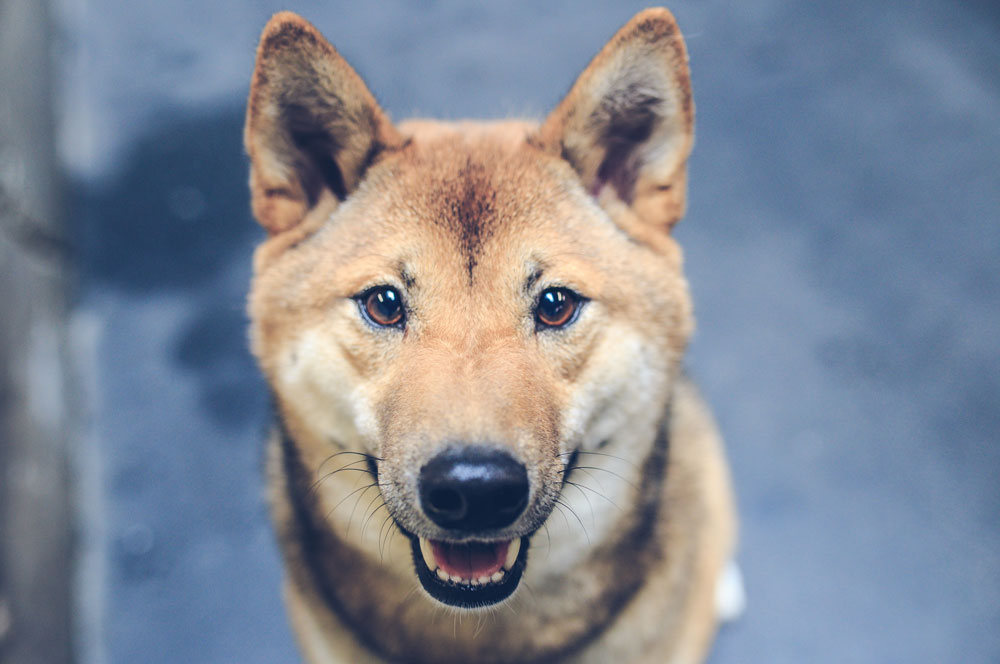 webcam
Stay connected with your pet
We understand the separation anxiety that comes with being away from your furry family member, which is why we installed live webcams in every playroom so you can check in on your pup throughout the day (except during nap time and overnight). Our webcams are accessible from any internet-connected mobile or desktop device. You'll see firsthand how attentive our team is with your pup and you'll be able to feel confident that they are safe and having fun at The Good Dog Spot. 
The new webcam fee is $1 per visit. The webcams are currently only available for daycare areas and outside. If your pet is a lodging guest who doesn't play in a group, then your pet will not be visible on a webcam at this time. Webcams are available through the Client Portal.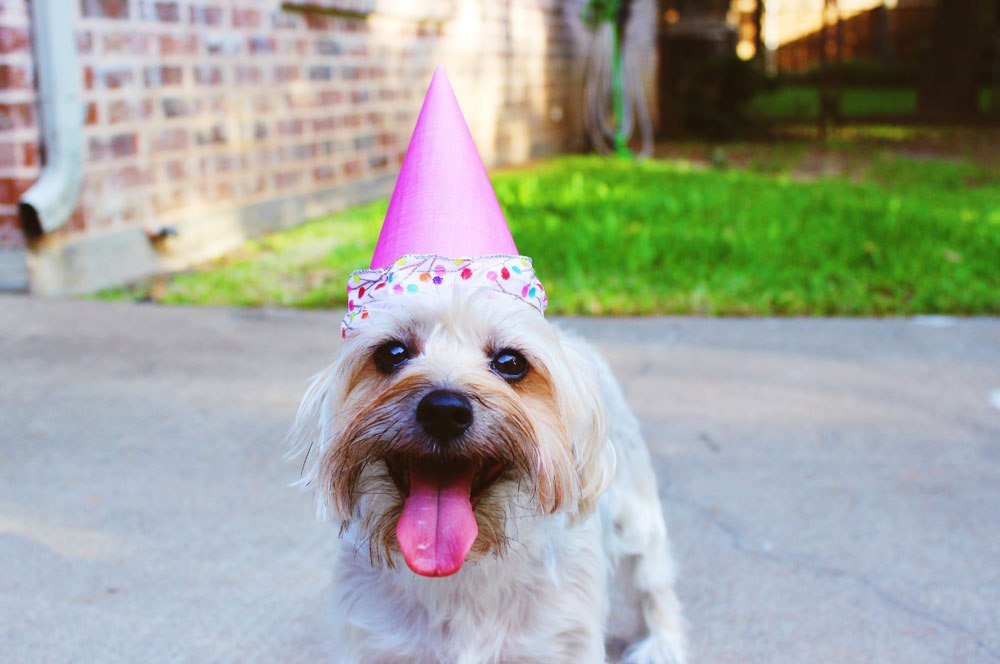 Birthday pawties
celebrate your pup's birthday
We want to celebrate your pet's birthday or honor the day you adopted your fur-baby in a special way!  Let us plan a pawty with games, snacks, photos and crafts. We are going to have a blast!
We offer Birthday and Gotcha Day Pawties for daycare guests that include:
Cake
Bobbing for Hot Dogs
Pawty hats and fun dress-up (for those dogs who enjoy!)
Commemorative photo and paw art
Social Media Shout Out
 Pawties start at $49.95, plus the regular daycare rate
additional
pawty options
Custom Photo Book with all the photos from your pet's pawty

Goodie Bags for pawty guests
Nose art pawject for the guest of honor
Please contact us in person, by phone or email if you would like to schedule a Pawty (72-hour advance notice is needed).
DAYCARE
POLICIES & guidelines
AGE
All dogs must be at least 8 weeks in age and/or in their homes for a minimum of 2 weeks. Puppies under 16 weeks must be enrolled in our Spots Tots Program. Puppies over the age of 16 weeks need to complete an Application form and full day Evaluation prior to daycare enrollment. Spots Tots Graduates complete a soft Evaluation Day at the age of 16 weeks before being promoted to full Daycare status. Puppies under 9 months old will be classified as red dogs to ensure appropriate social skills are learned and are reassessed at a later date.
Vaccination Requirements
To attend daycare, your dog must be vaccinated against Rabies, per Massachusetts state regulations. Beyond this core vaccination, we encourage you to have a conversation with your veterinarian about your lifestyle and beliefs and determine a vaccination protocol that best suits your needs. This could include the distemper/parvo and bordetella vaccines. It could also include deciding not to vaccinate beyond Rabies or an annual titer test to determine what is needed for your pet's system. Proof must be submitted with application and updated as necessary.
3 Strikes
The safety of your dog is of utmost importance at The Good Dog Spot. For this reason, we have implemented a "three strikes and you're out" policy when it comes to unacceptable behavior. Any dog receiving 3 strikes within a six month period will be released from daycare.
When a dog receives a strike, the owner will be given written documentation of the incident as well as suggestions from management which may help reduce the likelihood of a repeated offence. Upon receiving three strikes in a six month period your dog will be asked to leave daycare. If your dog does not receive all three strikes within the six month period, their record will be wiped clean and they will start over fresh. Any incident which causes injury to another dog or to a staff member can lead to automatic expulsion.
Daycare Days and Hours
Daycare is available Monday through Friday from 7am–6:30pm and Saturday from 8am–4pm; We are closed for lunch 12:30–1:30pm.
CancellationS
We request and appreciate 24 hour notice for all cancellations, however, cancellations can be done anytime up to the morning of your scheduled day. Repeat offenders to this policy may incur a $25 no show fee.
Newly Adopted Dog
All newly adopted dogs, regardless of age or where they were acquired, must be in their new home for a minimum of two weeks prior to starting daycare. Exposing your recently adopted dog or new puppy to too many new situations all at the same time can be detrimental to their mental and physical wellbeing. Your recently adopted dog has undergone a huge life change and needs time to bond with you as well as time to adjust to their new home environment before exposing them to even more stressors such as what they would find in any pet care facility.
Health Requirements
All dogs must be in good health and free of contagious diseases, this includes transmittable illnesses such as parvovirus and canine cough, and internal and external parasites such as worms or fleas. If fleas are found on your pet, your pet will receive an immediate flea bath at your expense.
Dogs must be able to handle the physical aspect of daycare. Dogs that have sensitive hips, shoulders, joints, or other chronic pain may not be eligible for daycare. Dogs that have diarrhea and/or vomiting must be seen by their veterinarian and cleared in order to return to daycare. If your dog has received any live virus vaccines (including but not limited to Bordetella "aka Canine Cough" or Distemper) please keep your dog out of daycare for seven days.
Collars and Equipment
Please refrain from bringing your pet in on a Flexi or retractable lead. This is for the safety of staff and your dog. All collars are removed for play. We strongly advise against using a choke or prong collar with your dog, please feel free to ask any staff member about alternative anti-pull walking aids. Please be mindful of your dog's actions while in the lobby—while dogs do come here to play, a lot of dogs can be territorial around their parents, and may become reactive on leash.
Daycare Passes
Daycare passes are valid for 90 days from the date of purchase. Daycare passes are nonrefundable in every circumstance. A credit in the amount equal to the prorated value of the number days remaining on the pass will be applied to the customer's account in certain circumstances. Credits, if issued, may be used for retail products or other services.
Snow
Please be aware that The Good Dog Spot will be CLOSED if Public Schools for that location are closed. We are open 8-9 am and 4-5 pm on snow days for overnight care and emergency cases. If you have any questions, please call our office or check our website before bringing your pet for the most up to date information. It is possible if one location is closed and the other is open for your pet to attend daycare at the open location, pending availability. Please call for more information.
Spay/Neuter
All dogs must be spayed or neutered no later than 9 months of age.
Behavior Requirements
All dogs must be sociable towards people and dogs. Dogs lacking in dog and human social skills necessary for a large off leash playgroup setting will not be accepted into daycare.
Breeds
All breeds are accepted; however certain breed characteristics do not lend themselves to positive play experiences. Bully breeds and herding breeds in particular tend to pass the initial evaluation and exhibit inappropriate behaviors once they become more comfortable in the daycare environment.
ReservationS
All dogs must have a reservation to attend daycare. Reservations can be made via phone, email in person or online. Reservations can be made on a per visit basis or on a long term basis. Reservations can be done anytime up to the evening before your intended day. Same day reservations are sometimes available. This helps us to prepare for the dogs that will be attending while maintaining a proper staff to dog ratio.
Late fees for Pickup
1-15 minutes late: $15, 15-30 minutes late $30, after 30 minutes your dog is considered an overnight guest and overnight charges apply. Your pet can be picked up after 7am the following day.
Call Us to book your spot (413) 534-1333
35 C North Chicopee Street Chicopee, MA 01020
139 King Street Northampton, MA 01060
Our Mission is to ensure pet parents' peace of mind by providing consistent, compassionate grooming services and a nurturing, safe and fun environment for pets to socialize and grow through our daycare and overnight programs.

Monday  7:00am - 6:30pm
Tuesday  7:00am - 6:30pm
Wednesday  7:00am - 6:30pm
Thursday  7:00am - 6:30pm
Friday  7:00am - 6:30pm
Saturday  8:00am - 4:00pm
Sunday  8:00am - 9:00am
& 4:00 - 5:00pm
We are closed between 12:30-1:30 for lunch
Holidays:  8:00am - 9:00am & 4:00pm - 5:00pm
Monday

  7:00am - 6:30pm

Tuesday

  7:00am - 6:30pm

Wednesday

  7:00am - 6:30pm

Thursday 

 7:00am - 6:30pm

Friday

  7:00am - 6:30pm

Saturday

  8:00am - 4:00pm

Sunday  8:00am - 9:00am
& 4:00pm - 5:00pm
We are closed between 12:30-1:30 for lunch
Holidays:  8:00am - 9:00am & 4:00pm - 5:00pm